In a press conference at the NASCAR Hall of Fame, Kyle Busch announced he would be leaving Joe Gibbs Racing at the end of 2022 to drive for Richard Childress Racing (RCR) in 2023 and beyond.
This news comes after Mars, Busch's longtime sponsor at Joe Gibbs Racing, announced they would be leaving the sport at the end of 2022.
"I looked at him in his eye and I seen that look in Dale Earnhardt Sr.'s eye, he's hungry and we're going to win," said Richard Childress when discussing the signing of new recruit Kyle Busch. Busch was visibly moved by the comparison to Earnhardt Sr. "It's flattering, it's a great honor, Dale Earnhardt is Dale Earnhardt though" said Busch.
"The second I sat down with him I knew his company and his people and the culture around there had the ability to compete for championships from day one," Busch said, moments before the grand reveal.
With a smirk on his face, a moment "Rowdy Nation" has been waiting for all summer, Busch finally revealed who he would race for in 2023, "I'll be taking my talents to Welcome, North Carolina to drive the No.8 car for Richard Childress Racing starting in 2023".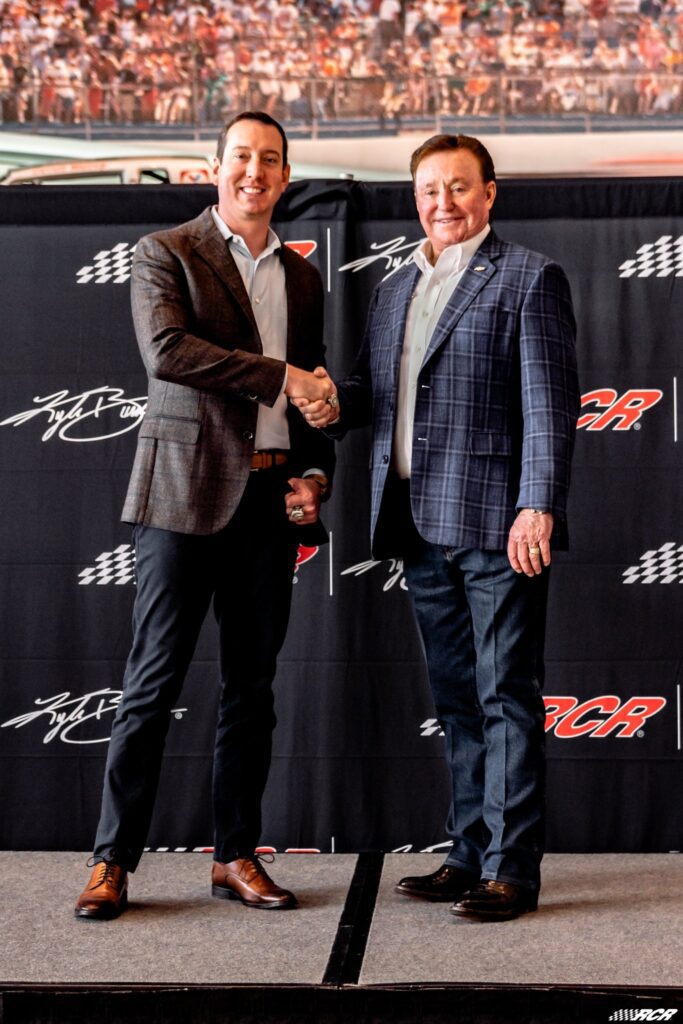 The Past Is The Past
Busch and Richard Childress are no strangers. The two tangled in 2011 at Kansas after Busch had an on-track dispute with one of Childress' drivers. Childress infamously told his grandson and fellow-racer Austin Dillon to "hold his watch" before he punched Busch multiple times in the face. The same words were heard at the press conference.
"There was something I forgot to give you was your signing bonus, so I got to give you your signing bonus, will you hold my watch?" Childress chuckled as he handed Busch a Rolex box with a large watch inside.
Over a decade has passed since the two sparred, and Childress has moved on, "And that's all we're going to talk about that, it's history," he said.
The New No.8 Team
Busch spent 15 years at Joe Gibbs Racing. Over this time the pairing won two championships and earned 56 Cup Series victories in the Cup Series. During this same time, RCR as an organization found victory lane 26 times with seven different drivers and no championships, but a season best 2nd in final points standings with driver Ryan Newman in 2014.
RCR's current lineup includes Richard Childress' grandson, Austin Dillon who drives the No.3 and Tyler Reddick who drives the No.8. However, in a surprise announcement earlier this year, Reddick announced he would be leaving RCR… in 2024, leaving both RCR and Reddick with an awkward season together in 2023. This makes Busch's move to Reddick's No.8 car no surprise.
The No.8 team has been the star performing at RCR, consistently outperforming Dillon's No.3. Not only will Busch drive the No.8, but Randall Burnett, Reddick's current crew chief, will work with Busch as well. Childress noted he wants to build a future not a "one year deal" in regards to splitting up Reddick and Burnett.The pairing of Burnett and Reddick have won two races this season and made the playoffs.
Reddicks will drive a chartered car, but car number and crew chief are yet to be announced.
In a touching moment, Childress beckoned Samantha and Brexton Busch, Kyle Busch's wife and son, to the stage. Like his father, Brexton is a racer. Childress offered Brexton, who is seven years-old, an option to drive for RCR in the years to come.