Hattori Racing picks up two GMS Racing drivers for their 2022 campaign.
Tyler Ankrum
Tyler Ankrum takes over the 16 Toyota from Austin Hill who will move up to the Xfinity Series for Richard Childress in 2022.
Ankrum brings three years experience in the Truck Series with one win in 2019 for David Gilliland racing. He also brings a significant amount of sponsorship. LiUNA! will be the primary sponsor of the 16 Toyota TRD Pro for 20 of the 23 races. Sponsorship for the remaining three races will be announced at a later date.
"This is a great opportunity to join a tight-knit team with a really strong foundation", Ankrum said in a team release. "I couldn't be more excited to join HRE and return to the Toyota family. To be able to work with Scott Zipadelli and his team on the LIUNA Toyota Tundra TRD Pro is a big opportunity for me. I want to get back to victory lane, be a threat in the playoffs, and continue this team's winning ways. I think we can do that together and I'm looking forward to putting in the work to make that happen."
Chase Purdy
For the first time in company history, Hattori Racing will field two trucks full time. Chase Purdy will pilot the 61 Toyota full time in 2022.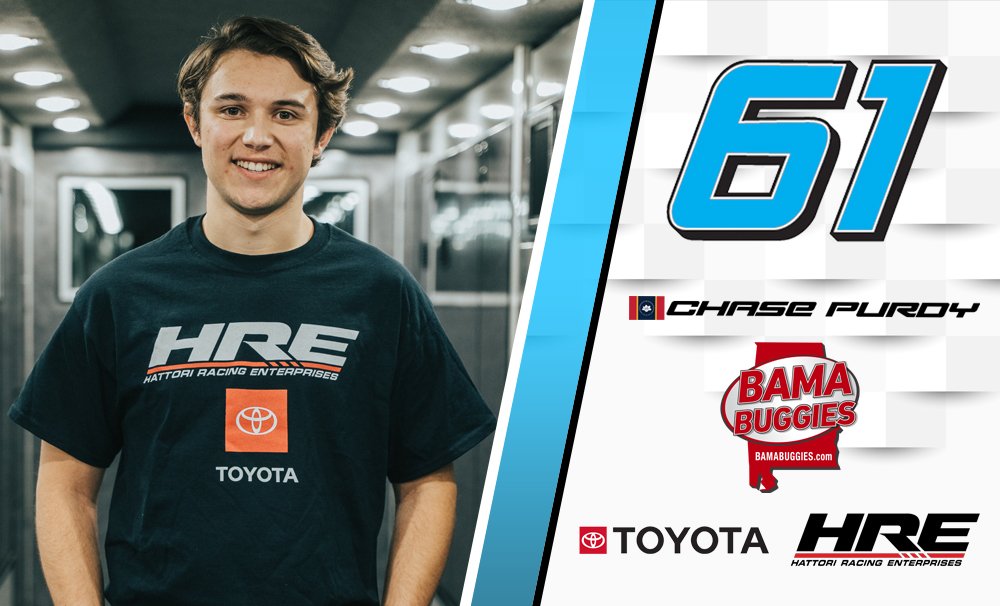 2021 was Purdy's first full time season in the Camping World Truck Series. The 22-year-old scored two top 10s with a career high 6th at Gateway.
BAMA Buggies will continue to support Purdy throughout the 2022 season. Purdy and BAMA Buggies have been partners since 2016.
"This is a humbling, yet a big chance for me to elevate my performance with such a family-oriented team," Purdy said in a team release. "It is also great to have the continued support of BAMA Buggies and rejoin the Toyota Racing family. Hopefully, we can contribute towards another manufacturer title in the new Tundra TRD Pro and make a strong run at the playoffs."
HRE is no stranger to success.
Hattori Racing Enterprise has been around the block in the Camping World Truck Series. Their first entry dates back to Michigan in 2013.
HRE would not run a full schedule until 2017 where they missed the playoffs with Ryan Truex due to a tie breaker. However it was all worth the wait come 2018.
2018 saw Brett Moffitt take over 16 truck and drive it to victory six times as well as the championship. However Brett Moffitt did not return to the team in 2019.
Austin Hill drove the 16 truck from 2019-2021. Hill scored eight victories with the team over his three years. However the Championship 4 eluded him, finishing a career best 5th in 2019.
HRE hopes to not only find victory lane in 2022, but a spot in the Championship 4.